Alumni Sharing Scholarship Opportunities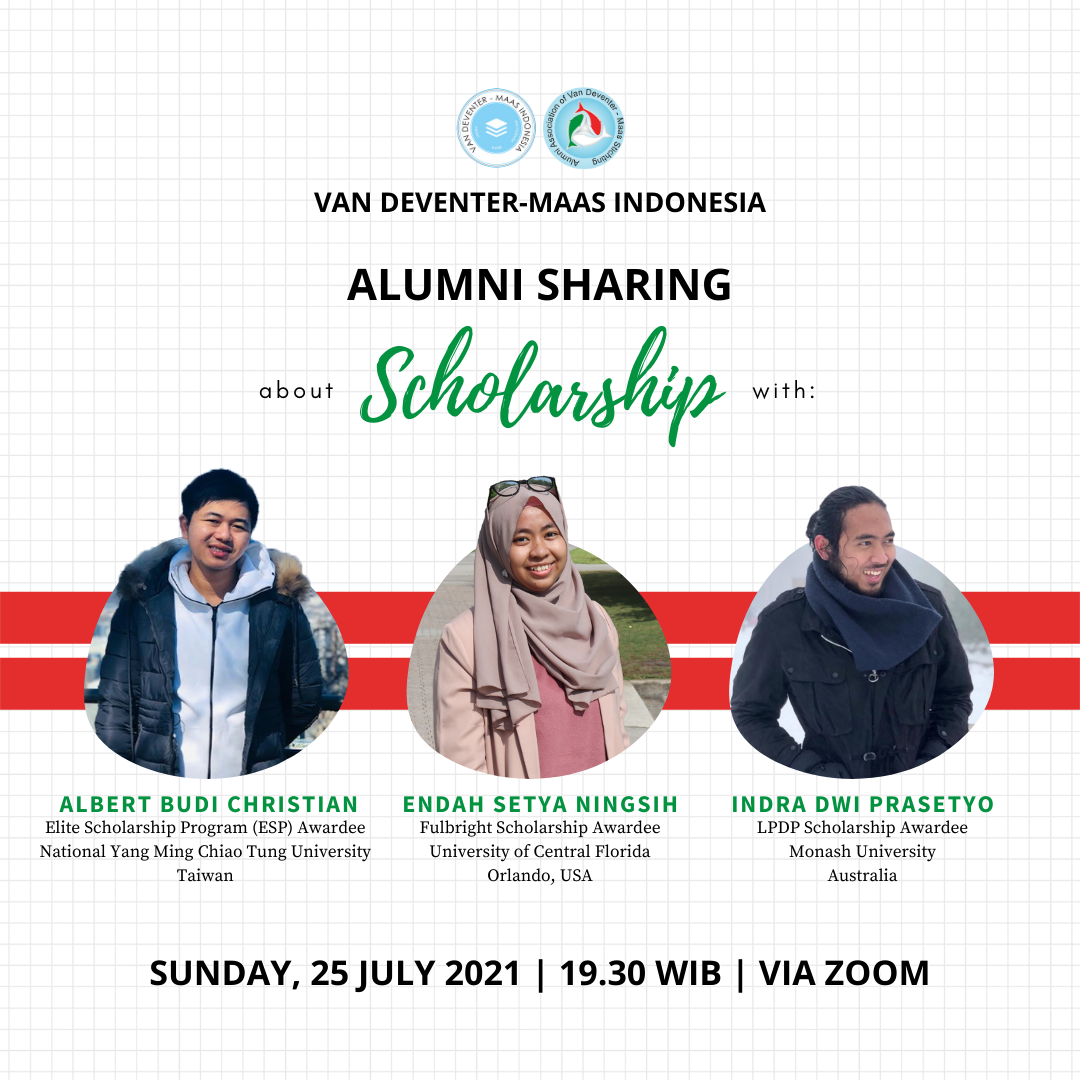 July 25th, 2021 VDMI facilitated the alumni sharing session on how to get scholarships abroad. Two alumni, Endah Setya Ningsing (Alumna Tanjungpura University) and Alberth Budi Cristian (Alumnus Soegijapranata Catholic University) shared their experience in receiving scholarships from the US and Taiwan.
Albert started the session by sharing his experience in taking graduate studies in Taiwan. Some of the available scholarships in Taiwan are: [1] Taiwan Government Scholarship for undergraduate, master, and PhD., [2] Ministry of Education Huayu Enrichment Scholarships for you who want to pursue Huayu (Mandarin Chinese) language courses in Taiwan, [3] Taiwan International Cooperation and Development Fund (TaiwanICDF), [4] Taiwan Fellowship and Scholarship (TAFS), [5] Academia Sinica Taiwan International Graduate Program, [6] he Taiwan International Graduate Program (TIGP), [7] Taiwan Experience Education Program, and [8] individual university scholarships (the one received by Albert), etc.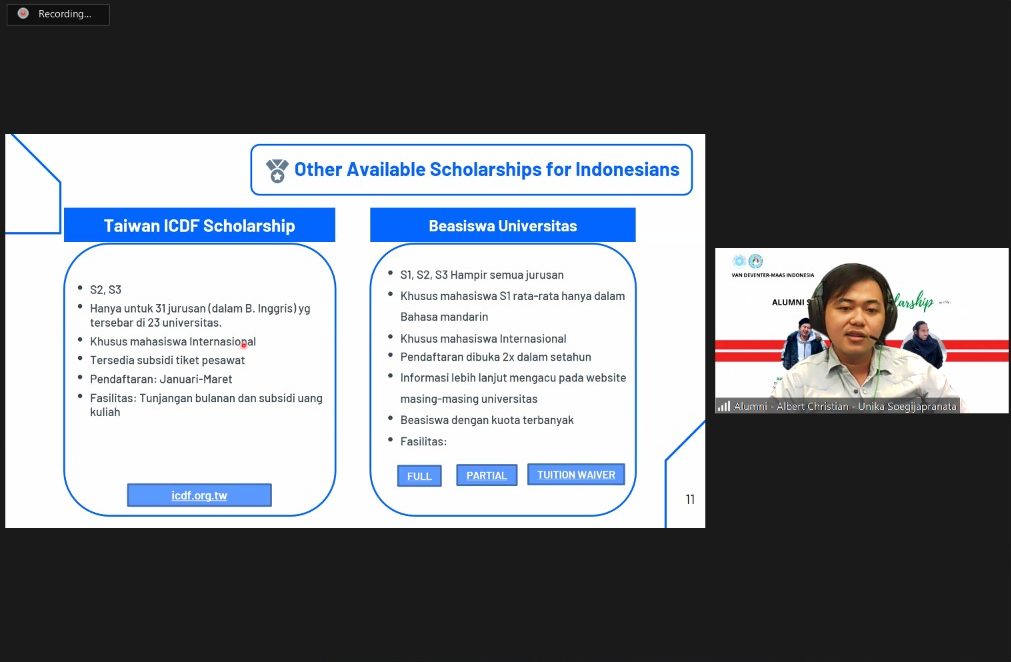 Albert explained that the requirement for the scholarships similar to other scholarships such as [1] Recommendation letters, [2] No minimum GPA, [3] a minimum TOEFL/IELT of 450 or Mandarin, [4] Curriculum Vitae, [5] Study plan, [6] Research interest, etc. Albert suggested focusing on the program rank rather than the university rank in choosing the programs. Also, Albert shared his daily activities and tips and tricks based on his 6-years experience living in Taiwan.
Meanwhile, Endah shared her experience as a Fulbright scholar at Central Florida University, Majoring in English to Speakers of Other Languages (TSOL). For the master's study, Fulbright required an ITP TOEFL score of 550. Other scholarships to study in the US are Community College Initiative and Global Undergraduate Exchange Program.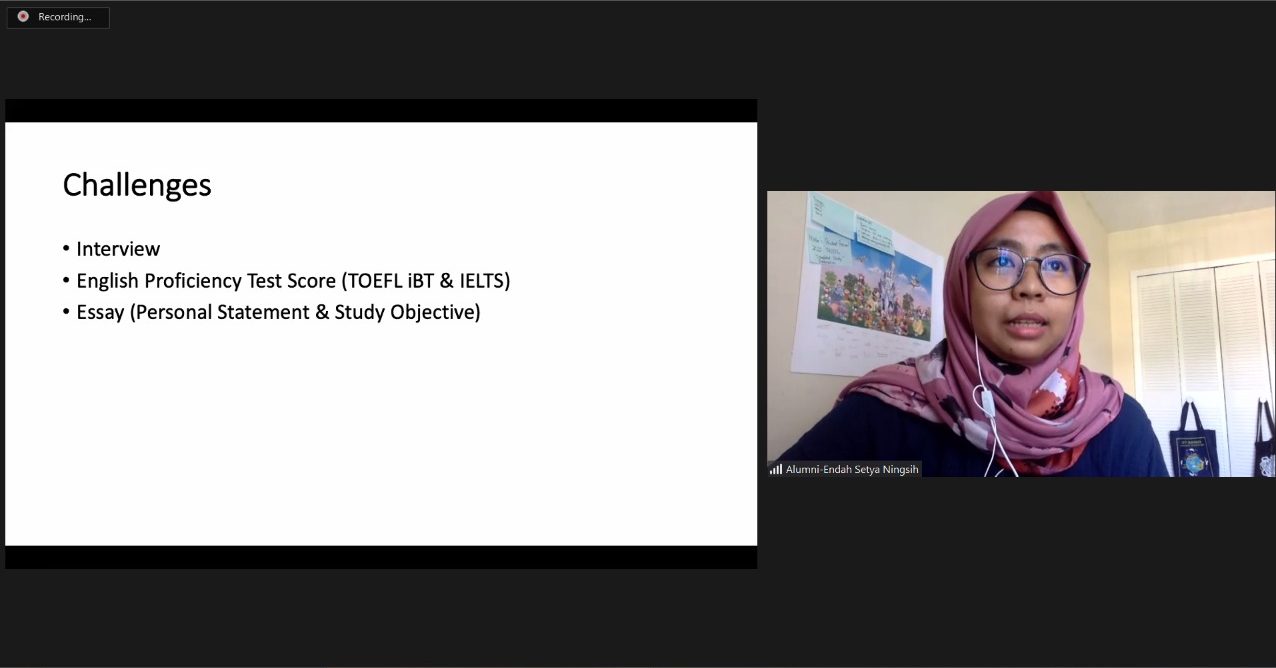 Before success with the Fulbright scholarship, Endah experienced failures when trying to get scholarships. So, Endah shared what she learned from her failures regarding facing interviews, making study objectives and personal statements, and passing the TOEFL and GRE test. Albert and Endah welcome the VDMI family who wants to know more about studying in Taiwan and America.