#OtotSendi "Being an Active Citizen"
Posted by

vdms-1

Date

October 31, 2022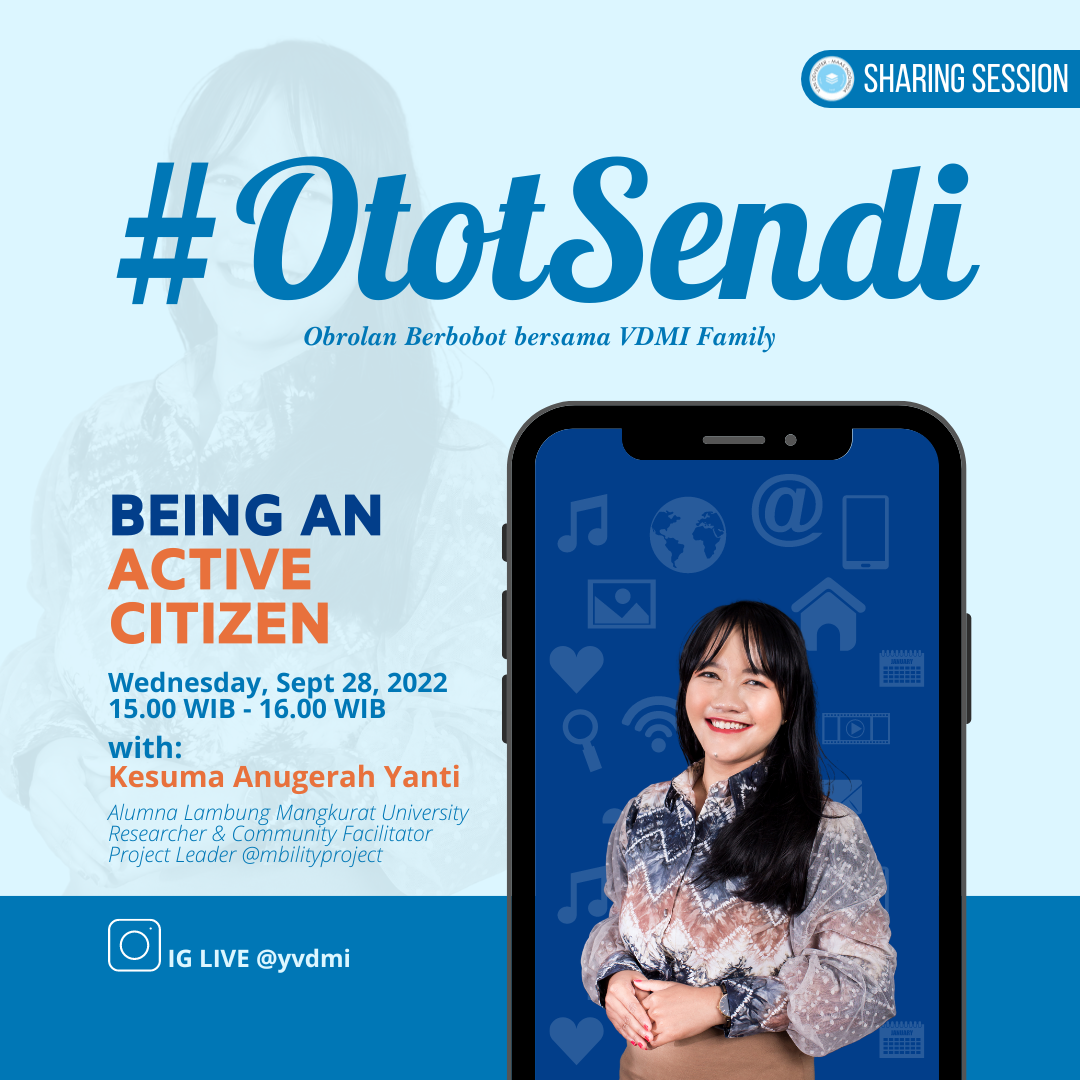 September 28, 2022, VDMI held #OtotSendi (Obrolan Berbobot Bersama VDMI Family) with Kesuma Anugerah Yanti (Alumna Lambung Mangkurat University/ Researcher & Community Facilitator/ Project Leader @mbilityproject), discussed about "Being Active Citizen", via Instagram Live at 15.00 WIB – 16.00 WIB.
At the beginning of the session, Yanti shared her experience of being an active citizen in college when she tried to join a lot of activities due to recognize her passion. The activities consist of involvement in education development, social empowerment, photography community and urban development. At the end, she found her passion in the social empowerment and urban development projects. Yanti started her career as a professional when she did a social project named "Mbility project". For 3 years Yanti conducted an initial research to explore the needs of persons with disabilities and change the community's perspective about them. This collaborative project aimed to support and empower persons with disabilities by providing skill improvement training that focuses on personal skill development by focusing on the sustainability of the program. 
There are two benefits that Yanti could get, both directly and indirectly as an active citizen through the social project activities. Directly, she gets new friends and network. Indirectly, she can get more experiences to improve herself and add to her portfolio. The biggest challenge to do this social project activities is to be trusted by the communities, government and stakeholder. Use a simple language and involvement in the society activities, use a formal and hierarchy language when connected to the government, and create a mutualism relationship or benefit to benefit when connected to the stakeholders, are the key to be trusted by them. An intensive approach and communication is also needed, so that the communities are willing to be involved in all programs that have been designed.
Currently, Yanti is working on the "Urban Lotus" project, a social assistance project for the society around the river in Banjarmasin. Urban Lotus aimed to assist the society in terms of waste management problems in riverbank areas. Urban Lotus has just been announced as one of the 25 best proposals from around 140 proposals submitted for the 2022 Alumni Grant Scheme (AGS) round 2. This project is funded by the Australian Government through the Alumni Grant Scheme and managed by Australia Awards in Indonesia. Yanti said "Keep on learning, enjoy the processes, and participate in various activities that can help us to find our passion. Be more sensitive and be more active in solving problems faced by the local community around us".