Series of Communication Skills
Posted by

vdms-1

Date

October 24, 2020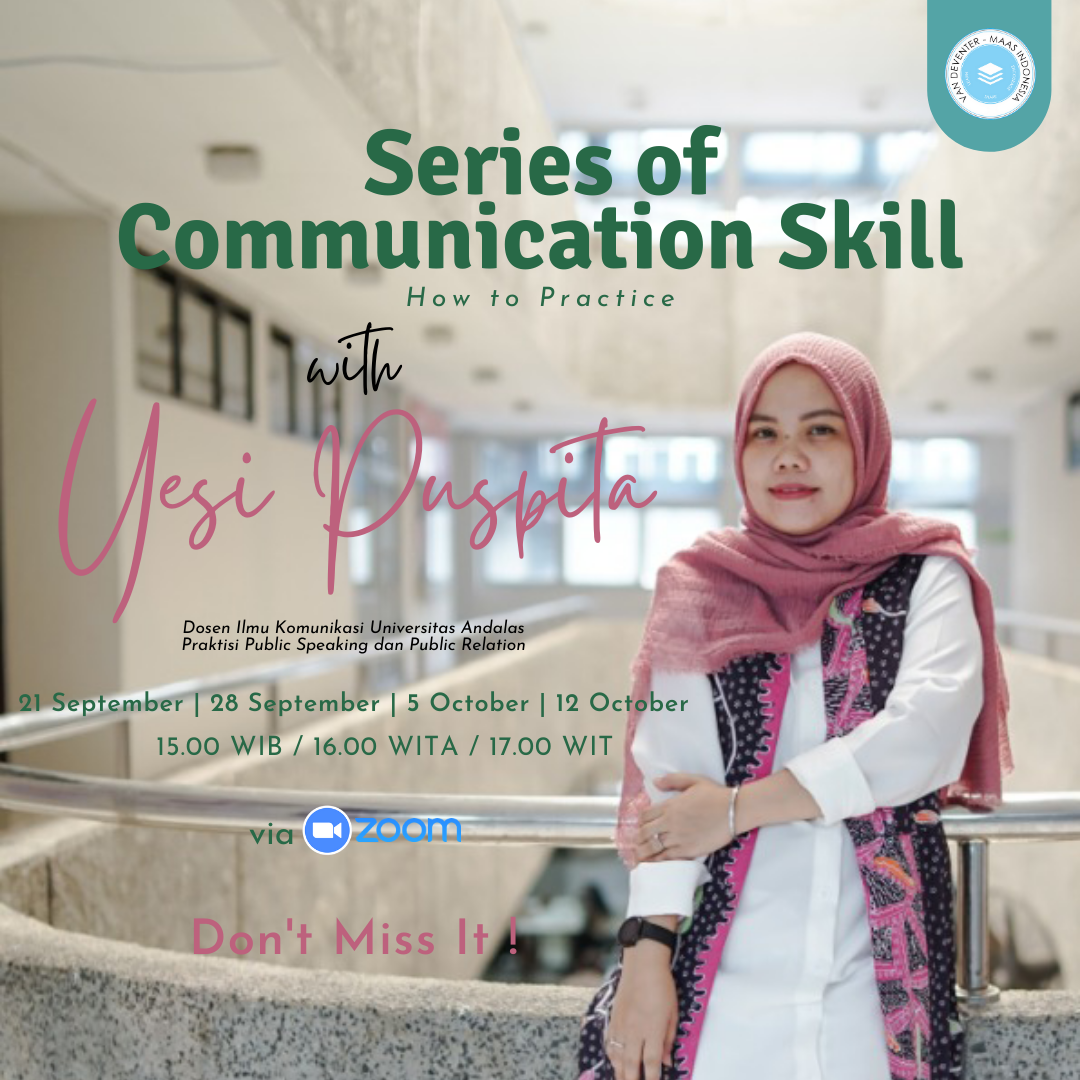 Van Deventer Maas Indonesia always designs capacity building programs based on the needs of alumni and grantees. One of which is communication skill. When communicating with professors or when required to speak in front of many audiences, many grantees experience problems. Thus, VDMI provided a series of communication every Monday at 15.00-17.00 via Zoom.
The series last for one month started from September 21st up to October 12th. The series was facilitated by Yesi Puspita, Lecturer and practitioner of communication from Andalas University, Padang, West Sumatera. The series was designed fresh and up to date so that it is easier to be digested by youths. There were 65 averages of participants during the series. Those who cannot attend expressed that they have a class or they were in an exam at that time.
The initial session has the topic of 'Everyone is Communicator'. Either introvert or extrovert has a unique way of communication. Each communicator should first understand himself or herself. Communication is a trainable skill. So, everyone can learn to be a good communicator. Communicators should build trust in the initial communication. Next, they should understand how to deliver the message to the audience. Understanding who is the audience is essential in communication. Ethics and Aesthetics are also important to soften the message. In the third session, 'How To Communicate' was discussed. The basic consideration in communication mostly consisted of what, why, where, and how. Besides, the language and word choices may also be considered to create an impressive communication material.
In the final session, the participants were asked to practice to communicate following the three days of communication series materials that had been presented before. They were asked to tell about their life role model. Grantee from Pattimura University, Ode Demansyah, shared about that B.J. Habibie. Ode admires Habibie because of his intelligence and his love for the country. Besides, the participants told about several names such as Soe Hok Gie, Oprah Winfrey, Maudy Ayunda, Nick Vujicic, and parents as their role models.
The participants were enthusiastic during the sessions so that often the sessions exceeded 30 minutes from the original schedule. After all the series complete, the participants expressed what they had learned from the sessions. Furthermore, the participants thank VDMI for providing a series of communications. They expect that there will be a follow-up program from this series or other beneficial activities similar to this series.