MoU Signing YVDMI – Wira Wacana Christian University (Sumba)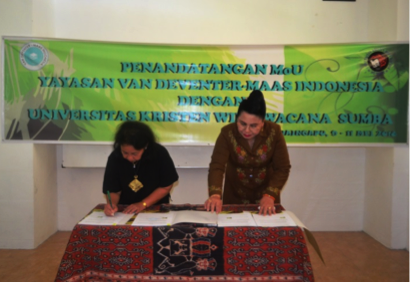 Wednesday May 9, 2018- As the first University on Sumba Island, Wira Wacana Christian University (Unkriswina) welcomes and appreciates the presence of the Van Deventer-Maas Indonesia scholarship to help the students in completing their studies, as stated by Pdt. Norlina Rambu Kalunga S.Si, M.Si as rector in her speech at the signing ceremony of Memorandum of Understanding (MoU) between Van Deventer -Maas Indonesia Foundation and Unkriswina.
Prior to entering the signing ceremony, a brief history of VDMI and the activities held to support education in Indonesia was delivered by Mrs. Pariasih Manoto as Chairman of the YVDMI Board. These activities include the enhancement of personality development such as Regional Meeting and Citizenship Workshop, Writing Club as a forum to channel the talents of writing scholarship recipients and alumni, Creative Writing for vocational high school students which assisted by the cost of apprenticeship and teacher training for teachers in schools who become VDMI partner. The event was also attended by Mr. Umbu Ho Ara as vice rector of student affairs, Mr. Yonathan Talundima, SE as person in charge (PIC) and 22 students of VDMI scholarship recipients.
As the new Partner, the VDMI team also discussed the Scholarship Administration System (SAS) and the obligations that have to be obeyed as a VDMI scholarship recipient. On this occasion, the grantees were invited to discuss and share solutions to the problems they have filled in online student monitoring questionnaires. Some students seemed to be very active in giving questions or just sharing solutions to the issues being discussed.
In the closing section of this event, it is hoped that in next year, there will be more applicants from Wira Wacana Christian University who apply online for this scholarship so that there will be more students who helped through scholarship Van Deventer-Maas Indonesia as well.