PIC Meeting and Award 2018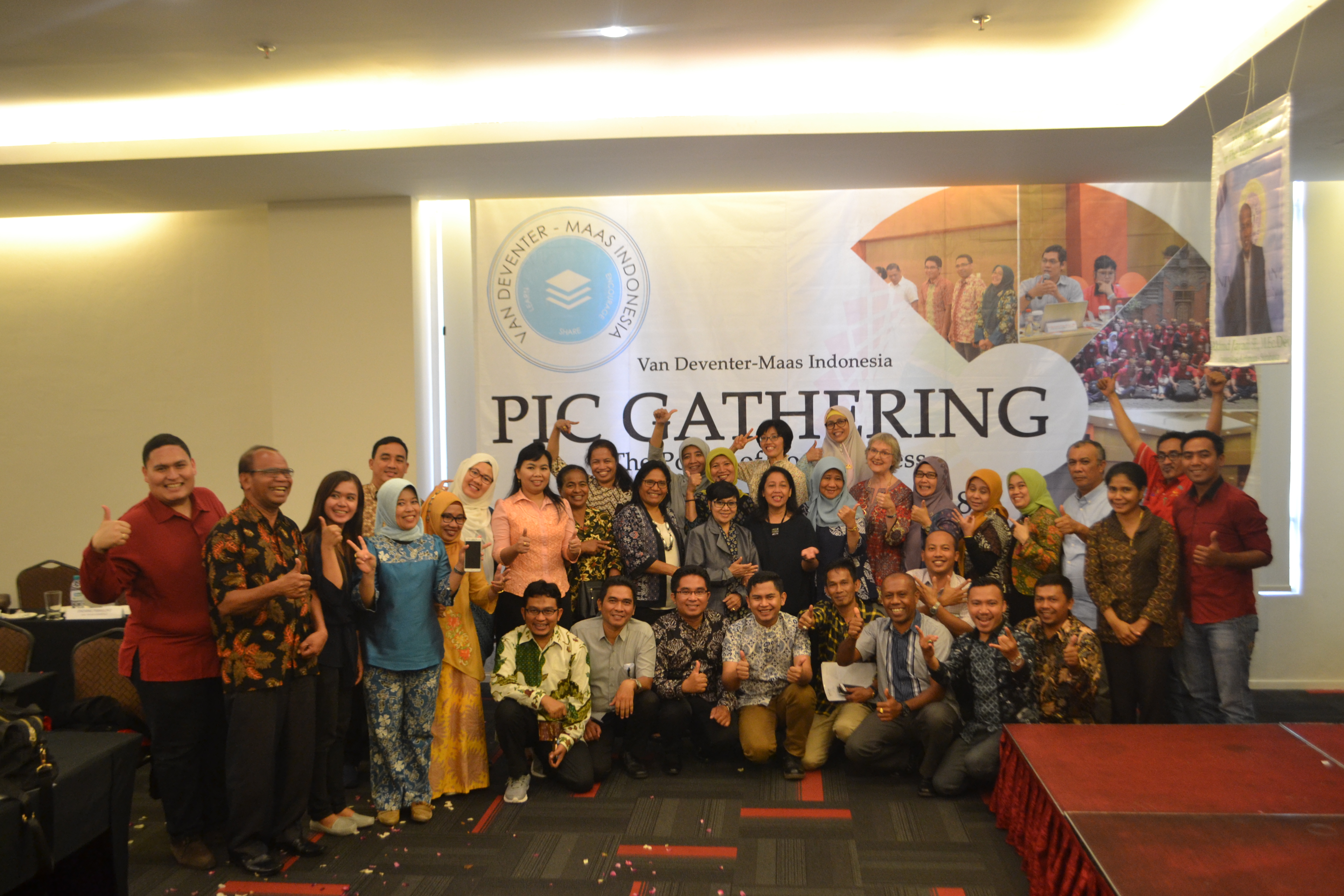 PIC Meeting and Award of 2018 was held from 28-29 July 2018 at Grand Zuri Hotel, Yogyakarta. Thirty-three of PICs from all around of Indonesia have attended this event. The activity started with Welcome Dinner on July 27, 2018. This activity was carried out to share information, build good relations between PICs, introduce a new system from YVDMI and give awards to the best PIC.
PIC Meeting and Award of 2018 has officially opened by Mrs. Ute Jansen as the Chairperson of VDMS Board in Netherland. She welcomed and thanked you to PICs for their voluntary commitment. She also hoped that this meeting will be nice experience and get a lot of information and useful knowledge. After that, the presentation of VDMS history has delivered by Mr. Ben White. Then, the event was continued by the information about Yayasan VDMI as well as the introduction the Boards in Indonesia that has been delivered by Parche Manoto as the Head of Office VDMI Office. Moreover, some of boards in Indonesia have attended the event such as Prof., Dr. Ningrum Natasya Sirait, S.H., M.Li and Dr. Agr. Ir. Sri Peni Wastutiningsih.
The event, then, was continued by introducing the new system from VDMI Integrated Administration System (VIAS), Question and Answer about Scholarship Issues, the solution from PICs for Student Monitoring System, Sharing Session by Mr. Akhmad Jayadi (PIC from Airlangga University) and Motivation Session by Mr. Ferdinandus Hindiarto, S.Psi., M.Si. After that, the event moved to the next agenda that is the announcement of the best PIC in 2017-2018. The Best PIC 2017-2018 has awarded to Mr. Akhmad Jayadi (PIC of Airlangga University), The Second Best has awarded to Mr. Fransiskus Korosando (PIC of Flores University), The Third Best has awarded to Mr. Frans Wayan (PIC of Widya Mandira Catholic University) and The Favorite PIC awarded to Mr. Michael Tri Haryono (PIC of Sanata Dharma University).
In the second day of event, the PICs carried out the outing activities. The first visit was going to Plaosan Temple and ended at Sojiwan Temple Area. The PICs carried out outing activities with several collaborative games that have been designed before. After the activity, the PICs performed Gunungan Parade (Javanese tradition) to Sojiwan Temple. The activity ended with farewell dinner in Ndalem Ngabean with wearing traditional Javanese clothes.